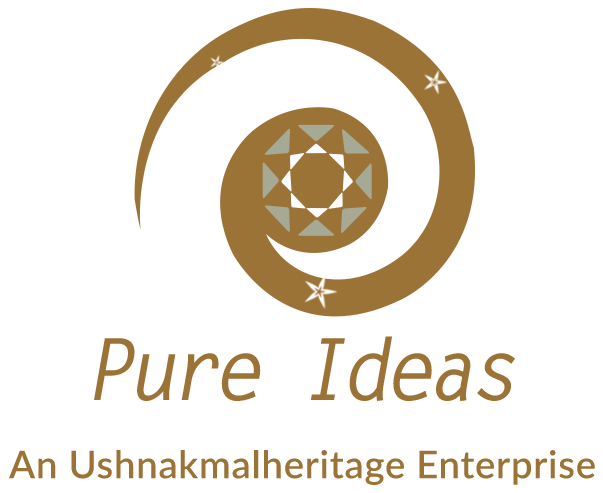 Pure Ideas an UshnakMal's Heritage Enterprise
Fashion Jewellery, Ethnic Masterpieces in weaves and embroidery & contemporary Indo-western wear.
Lala Ushnakmal founded Ushnakmal brand almost 200 years ago. And today it has become a name synonymous with haute couture and dedication. Our impeccable quality has helped the business to grow into the workings of a brand which is an epitome in the international standards of designing and manufacturing of exclusive women's clothing.
Having served at least seven generations with great pride and honor, time speaks volumes about sincerity when it comes to Ushnakmals "Heritage". And the heartwarming phenomena which is rarely seen these days brings together three generations of experienced hands at our webstore store – where master of Heritage weaves and Embroidery – Kapil Tandon and designer creations and fashion Jewellery of Seema Tandon attract and fascinate connoisseurs from across the globe irrespective of their age. Our latest venture, "Heritage Threads" now has an addition of Kartik Tandon who is heading the designing and marketing of Heritage Indian Embroideries and contemporary western and indo-western wear and contemporary fashion Jewellery.
The collection is found only through our webstore pureideas.biz . Connoisseurs are advised not to be misled by similar names. Our originals carry the signature "Pure Ideas" by UshnakmalHeritage.
The collection is feminine and sophisticated. A scintillating collection for the modern bride and family unfolds this season as contemporary outfits, sarees, and fashion wear come with unique "ushnakmaheritage" signature look.Ravishing embroideries in rich detailing are played with beautiful colours. Fuchsia pinks, reds and oranges and other flame colours are for the traditionals, while a refreshing change for trousseau pieces come in a burst of pastels and aqua tones on a range of fabrics – georgettes, chiffons, satins, satin crepes, shimmering georgette, chantlier's laces, self crepes, tulle', nets, tissues and traditional weaves. The line is shimmering with form and style. The exclusive Pure Ideas by UshnakmalHeritage bring out the look of art, as the warp and weft merge traditional motifs with very modern designer work and colour combinations.
Our designs are contemporary with symmetrical and asymmetrical cuts and tones giving them a truly fusion feel. UshnakmalHeritage's signature range "Pure Ideas" underscores a delicate, refined feminity, breathtaking colour combinations and a twist of contemporary fashion in varied cuts and silhouettes.
We carry a classic combination of chic indo-western, haute saris, mermaid and fish-cut lehengas, shararas, ghararas and farshi lehengas with hyderabadi dupattas with flares and elegant dresses worked upon in our signature style at PURE IDEAS.
Let's take you into the world of "Pure Ideas" an exclusive signature enterprise of Ushnakmal Heritage.To give you a live shopping experience rather than just website pictures we are pioneering into an innovative concept of "LIVE" online shopping via videoconferencing and live display in real time of our signature collection in fashion
Jewellery, ethnic outfits and creations in women's formal clothing. Let the journey begin…………